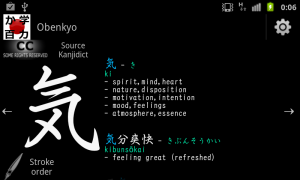 A new feature of Obenkyo starting at 3.0.4 is the ability to change the font for any Japanese writing in the app.
More info after the break…
The first thing to consider is why does people want to change the font?
Because the default font is far from perfect…
font supported:
First, Obenkyo only accept True Type Fonts (supported by Android), also it must be « unicode fonts » and not fonts that put some kana instead of the « AZERT… » keys (like windings & the likes)
Where to find fonts:
There are many websites that list fonts like:
– http://www.wazu.jp/gallery/Fonts_Japanese.html (great list but with many of them going 404)
– http://nihongoup.com/blog/10-beautiful-japanese-fonts/
– http://www.ilovegkr.com/pages/fungames/typejap.html
Personally I use the package you can download from Epson « I love Epson » website http://www.i-love-epson.co.jp/download2/printer/driver/win/page/ttf30.htm that contains some nice fonts.
If you find other link or some great fonts, post a comment and I will add them to the list.
Where to copy the fonts:
At first runtime, Obenkyo will create a folder « Obenkyo_data » and a subfolder « font » in the external storage. If you add a font in this folder it will show up in the settings.
For instance in both my GalaxyS and EeePad, the folder is in the Root of the internal Memory Card (since the GalaxyS have 8GB of internal + µSD Card, Android set by default the 8GB storage as the « external » storage)
Note that you might have to reboot your device if the folder does not show up (I had to do it on my eeePad)
If you have any issue finding the folder contact me and give me the model of your phone.
Why aren't the fonts bundled into the app?
The 2 main reasons are:
– Weight: adding a single unicode font would almost raise by 50% the weight of the app
– Copyrights: creating a font is not a sinple task … especially kanji fonts. I spent some time trying to find Kaisho fonts that I could bundle into the app (even at a price), but at the end I struggled to find « open » fonts that I could embed into the app without having to make you pay some 20$ per user (and that's without Google's Share and I would gain nothing of it). Even fonts available freely on the internet are often under copyright that would prevent me to embed them (I have tried to contact Epson that had great fonts free on the internet, and they could not allow me to add the font to the app).
Don't get me wrong, creating a font is a tremendous job that DESERVES some payment (Windows 7 font took 2 years to create). But Obenkyo being a free project, I just can't afford to have to pay to embed fonts.
So the easiest way was to enable you to find the font you want and to add it to the app.