I know It's been some time since the last update but finding time for Obenkyo is harder and harder …
The big news with this update (V3.3.3.1) is the « import/export » feature added in the settings screen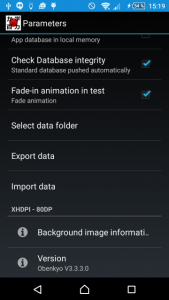 The « export » feature just copy the full content of the settings into an « .OBE » file (I always dreamed to create my own export file 😉 ).
The file is created on the device into the « Obenkyo_data » folder.
If you can't see the folder/file, try to reboot the device (unfortunately it seems there is a bug sometime).
The import feature enable you to get .obe file from the folder and import settings / scores et lists.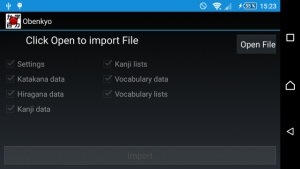 (There is also a surprise at the end of the « obe » file, with a feature I have enabled some time ago that I plan on using in the future build of Obenkyo)
For now, there is no way to sync the info between devices using cloud services. I have worked on it a little bit witout finding the right way to do it …